27 min read
Are we Witnessing the Collapse of an Industry?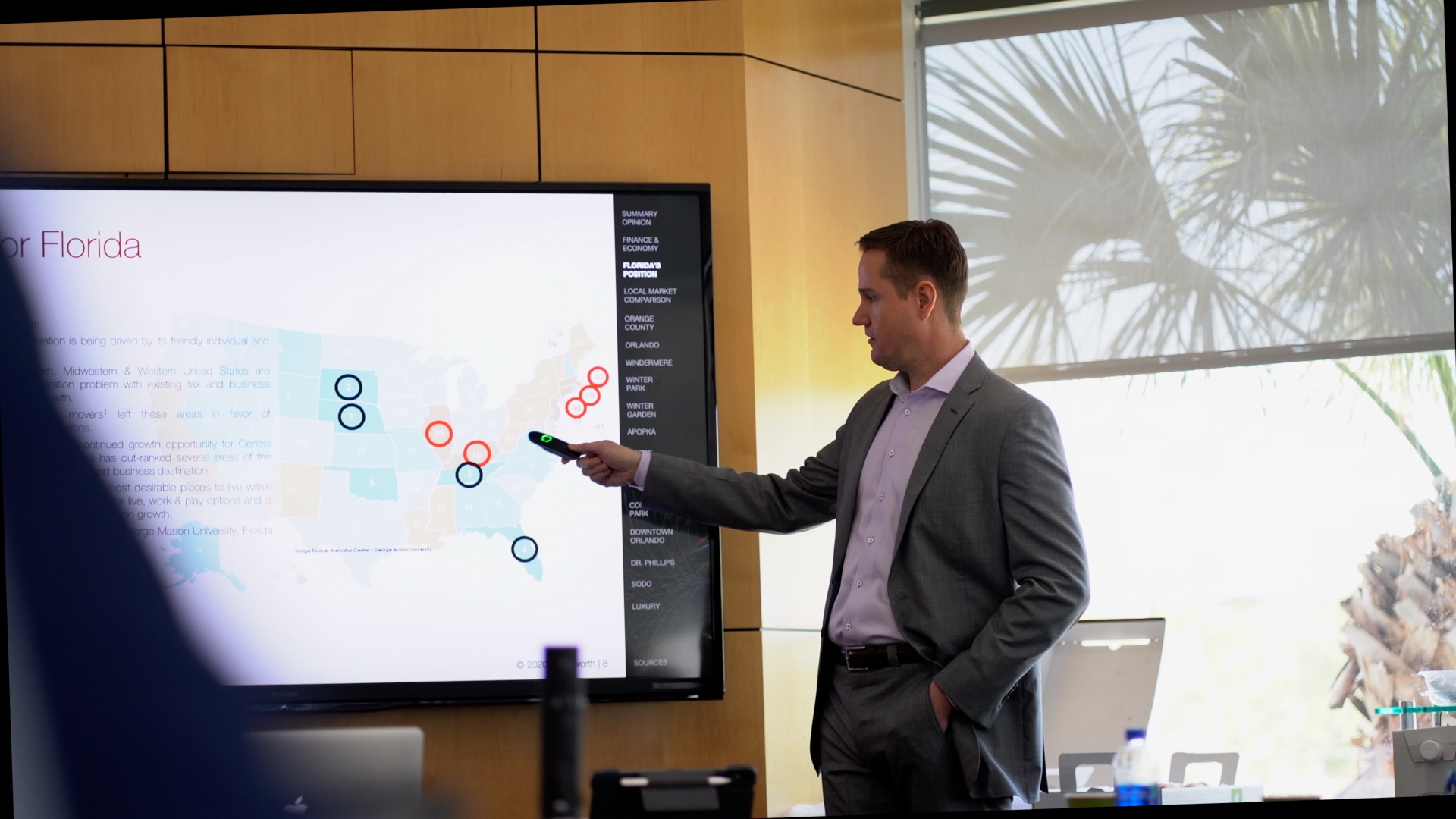 Now is the Time to Define Your Role with the World of Real Estate
Orlando, Florida - FEBRUARY 2018 - Should an industry that is responsible for more wealth creation than any other single field be allowed to implode due to its leaders' lack of oversight and responsibility? It would not be unprecedented. We've seen it in recent history with financial and banking services.
Residential real estate is the largest asset class within the portfolio of most Americans. A family's home is typically the most valuable asset it will ever own. Those representing the average family in the sale or purchase of their home, real estate brokers and agents, are mandated with being experts in their field in order to protect the public and ensure a smooth transition for all parties involved.
Despite this mandate, would you find it surprising to learn that earning a cosmetology license requires 11 times greater the amount of training and education as compared to the real estate agent?
Many of my commercial real estate peers view the residential brokerage sector of this business as immature, unsophisticated and question why it is, given my experience with institutional level commercial real estate, I would fight in the mud with residential brokers. My answer is always quite simple; I find it to be an admirable profession.
My view is that one can only close so many commercial or business driven deals before a feeling of sterility overtakes your day-to-day professional life, whereas every person or family is unique. Each home is not merely a margin threshold to exceed or a disposition strategy to outperform. Each home is the largest financial commitment most will ever undertake, the place where they will raise and shelter their family, and the asset that will be left after they are gone. Businesses come and go and can be forgotten, people cannot. Unfortunately, the current negative reputation of the residential real estate agent has been long and well deserved.
The residential real estate brokerage industry today is in the midst of a crisis because it does not take itself seriously, not in its education, mentorship nor execution of its practice; and considering the professional role I take today as the Director of Operations of one of Central Florida's leading privately owned real estate brokerages and advisory firms, with my sole focus being the protection of my clients, colleagues and peers, I take particular exception to this disturbing trend. Unfortunately, despite there being many well-qualified practitioners in the field, there are seemingly many more who are not and who overshadow much of the good work that is being done.
A DECADE OF TRENDS:
The first 10 years of my career were defined by extreme discipline. I began in real estate in 2004 when I was in college with what I thought was a small commercial real estate office, Atlantic Management. Mark Hayes, its CEO, recruited me and I followed what, for most, is the expected hierarchical professional track; first as an assistant, I'll call myself a glorified gofer, then as a lower level associate and researcher, and ultimately moving into a more formal career path. What became clear to me as time progressed was that this "small" company, and Mark at its helm, was actually a strategic consultant to global private equity firm, Tavistock Group. The size and scope of the projects I was a part of were mind boggling to me as a new member of the industry and I was humbled for being allowed to be in the presence of individuals I know today to be local, national, and global industry leaders.
The most notable project in which we were involved was in the land acquisition and planning component of a large-scale city-building project in an area of Orlando known today as Lake Nona. This community is now the site of the University of Central Florida Medical School, Nemours Children's Hospital, the Orlando VA Medical Center, bio-technology research clusters, smart and connected homes, the new corporate base for the United States Tennis Association, Valencia Community College, and many others. For Orlando, the success of this project was of critical importance; and from the development side, its failure was not an option.
That environment commanded a constant pursuit of working towards the best that could be done and an adherence to a fundamental concept: production must exceed consumption. This was a high stress and high stakes environment, but the stress was neither erratic nor without purpose. It was focused on the task at hand and keeping on top of mind what we all were working towards, the creation of something new. It was in this environment that I began to fundamentally understand the drivers of value for not only large-scale development, but for individual businesses, and, ultimately, people. It was also here that I personally experienced a turning point, witnessing firsthand how the execution of a professional work ethic sets you apart from the fray. When working with a global organization, it was not uncommon to receive calls in all hours of the day and night from all over the world. In a semi-uncertain condition of not knowing when you are needed to have an answer, we became accustomed to being well prepared for almost everything on short notice.
The environment within Tavistock was one of seeking perfection and working harder than anyone else; and when your daily business includes preparation for business minds the likes of Rasesh Thakkar, Tavistock's Senior Managing Director, Jim Zboril, President of Lake Nona, and projects that would be used by the Metro Orlando Economic Development Commission, Chamber of Commerce, etc., the natural response is only to improve and rise to the occasion demanded of you. Counsel from these and other individuals gave tremendous context and scope to not only projects on which we were working, but in what ways to focus our business efforts, ultimately having a hand in the professional shaping of what our organization has grown into today.
As my career evolved, I began to work much more closely with real estate brokers rather than developers, and over the past several years, I have found myself almost exclusively in a brokerage and consulting practice; and I must say, having come from a world that operated with an intense focus on planning, strategy and organization, nothing could have prepared me for the erratic and disorganized world I walked into as a residential real estate broker. Residential real estate agents are generally lazy, sloppy in both professional skill and appearance, and often flatly unqualified to even remotely approach the concept of advisory services.
MY SHIFT:
My opinion of the field was truly solidified following the earlier years of Lake Nona when, in 2010, Mark was given the opportunity to oversee the real estate operations of Tavistock's premier luxury Central Florida community, the Isleworth Golf & Country Club. During our time with Lake Nona's growth, Mark had become my mentor and friend, and with our transition in optics from a commercial development focus to now a luxury residential community where I would manage some the most expensive homes in the Central Florida region, my involvement in the residential brokerage market would be solidified.
Over our tenure we would broker close to $200 million in luxury residential homes ranging in value from $1 million to over $20 million. It was here that I was introduced to the general residential real estate brokerage world, but we were, by virtue of price segment, in an isolated bubble, insulated largely to what most know as a true "general" real estate practice. Although initially there was a feeling of apprehension and general discomfort with a transition from commercial real estate to selling homes, there came an exciting realization when we discovered our clientele demanded the same level of skill and prowess as we were accustomed with our commercial work; but it also triggered a thought that we could apply that same level of diligence to a general residential practice and change the landscape of the residential brokerage community.
In 2013, following the first few years of management success with the Isleworth brokerage, taking it from $10 million in annual sales to $50 million, we were presented with that very opportunity when asked to assess the viability of one of Tavistock's true general real estate firms, Stockworth Realty Group. Not only was the long-term assessment positive, we chose to assume its operational management by the end of that year and began the implementation of the standards we believe to be central to a truly viable real estate practice.
In successive year-over-year performance, we went from $45 million in sales, to $91 million, to $148 million, all with virtually the same sales team. Then, in 2015, everything changed. Tavistock was in the midst of restructuring its real estate portfolio and, given the realization of long-term viability of the professionally managed residential model, Mark made an offer to purchase Stockworth from Tavistock. From that point forward, our core team has been focused on nothing but the furtherance of that professional philosophy through the construction of a platform of a professional real estate practice atop Stockworth's business operation.
SPOTTING THE ISSUE:
From the beginning of my career, having touched over 1,000 transactions and coming into contact with hundreds of real estate agents and brokers from all over the country, I have developed an absolutely appalling opinion of the work ethic, diligence and overall set of professional standards that plague the residential segment of the real estate market. The worst part is, when I began in this area I thought it impossible for the system to devolve any further, but since the start, I have witnessed a continued and sharp decline in the overall skill and professional acumen held by the average residential real estate agent.
This decline is a direct and proximate result of the lack of leadership of real estate brokers, professional industry associations and boards. The business today is driven by large national and regional brokerage houses and brands transitioning towards the business of real estate agents and away from the business of real estate itself. One needs only to look at national brand parent company structuring to understand this fact.
Realogy is the franchising parent that owns the flags of Century 21, Coldwell Banker, ERA and Sotheby's, to name a few, and an organization that states "we are the largest owner and operator of U.S. residential real estate brokerages." Considering that the U.S. residential real estate market is measured in the trillions of dollars and millions of transactions annually, in my view, that franchising fact comes with an extreme directive, one to provide preeminent skills and knowledge training to its franchisees' agents.
It's senior executive leadership and Board of Directors is made up of well known, very successful business people. Their success can be traced to fields of banking & financial services, technology, retail advertisement, corporate branding, food distribution, online dating, credit cards, accounting, and so on, and so on. What I find striking is that almost none of those charged with leading "the largest owner and operator of U.S. residential real estate brokerages" were themselves real estate people, professionals who began their career in real estate and found their way to success through that field.
The cumulative experience of these differing fields is quite impressive and lends itself very well to enhancing the perception of having the secret to the real estate business through use of the newest and most efficient tool(s) available. What may not be so clear to the public is who these conglomerates are targeting as their primary consumer, the real estate agent.
What I see in my marketplace, one that is currently populated by +/-14,000 real estate agents within a $11.5 billion/45,000 transaction annual market, is a collection of national franchising brands that are on a recruiting mission like nothing I have ever seen. Having myself been recruited by these and other large corporate brands, the predominant value proposition is one of enhanced technology. Platforms, portals, apps, services and tools may very well provide efficiencies and enhancements within the field of real estate, but the absence of fundamental real estate training is almost always a pathway to failure and something I see within all of these brands. Though there is always "training" offered by major franchises, just ask your real estate agent to calculate your mortgage payment and gauge the vacuous stare that returns your question as a baseline for overall skill. Better yet, ask their broker.
Admittedly, the business of branding real estate franchises is brilliant; so brilliant, in fact, the very concept of creating passive revenue through franchise and product fees, ironically, the function of real estate investment, has created a business model rewarded not by the skill of the practitioner, but by the number of practitioners, and may be the very structure that creates an industry shifting model, one away from the giant franchise operation in which the Realogy-like brands are so heavily entrenched, and into a smaller, well trained and qualified practitioner based operation.
Unknowingly, these agents, consumers purchasing products developed by a parent, under the flags of various brands, are the very people who have created the vacuum for there to be such a pervasive and negative narrative surrounding the real estate agent and its place within the professional world. This stems directly from the average agent's complete ignorance of how a true professional conducts business and carries themselves, an ironic contrast to those operating and charged with leading "the largest owner and operator of U.S. residential real estate brokerages," and is the quintessential and demonstrable characteristic that defines real estate agent transience as outlined below.
In this market climate today, the earning potential on the order of scale of a Realogy sized brand is enormous. This skill of creating tools and brands attractive to real estate agents without first creating real estate professionals to implement those tools only further establishes the advancement of the business of real estate agents, not the business of real estate, one that its franchisees are licensed to conduct.
Further, when an organization of this size is publicly traded with a fiduciary obligation to its shareholders, an obligation that now lies in direct contravention with state licensure law, protection of the public, a conflict of interest on a scale I am not aware of in any other industry may become a real factor for the sustainable viability of this model of industry operation.
Sadly, the losing party in this equation is the public. No longer is the emphasis of the broker or real estate agent's role placed on advising, rather, serving as a glorified home shower that merely fills in pre-printed contract blanks, shuffling people through what I call "The Transaction Carrousel."
THE REAL ESTATE INDUSTRY TODAY:
Real estate is everything and everywhere; it is quite literally the world. Long term, it is also one of the largest wealth creating asset classes in existence in both commercial and residential sectors. Using a simple analogy, real estate is like food; it is necessary for survival. In the same way that we must all eat to survive, we all need a physical space to live, work, shop, etc.
For those in the investment world, real estate itself is unique in that it serves as its own fixed and immobile source of collateral, able to be levered, leased, produce cash flow, pay for its operation and subsequently sell for a recapture of and/or gain on upfront equity.
As a product of the size and scope of what real estate is, an entire industry has emerged; development, brokerage, sale, leasing, hospitality & entertainment, timesharing, etc. The rewards from real estate success rise to the level of what we might call "prize worthy." In any equity area, the rewards of success can be life or business changing, and likewise, the rewards for those who represent and advise in the purchasing or selling of those opportunities can also be immense; enter the role of the broker.
The purpose of a brokerage is quite simple, to represent parties in either the sale or purchase of a real estate asset. The real estate agent, or agents, conduct business under the license of a single broker. The agent's role is to represent, guide and advise those selling or purchasing real estate and the broker's role is to supervise and train any agent licensed under that broker. Within the practice of real estate, there are many areas in which errors can occur, and those lacking critical skill or guidance have the potential to cause great harm to any party involved; whether financially, legally or even physically. The level of depth and complexity in certain areas of this industry can become daunting to the inexperienced and can even rise to the level of requiring specialized consultants, attorneys or other practitioners.
What I find frightening and tremendously dangerous is that many I encounter genuinely do not know what they don't know. Areas of negotiation, property inspection, insurance, financing & financial review, permitting & licensing, construction elements, land use rights, appraisal, transfer of ownership, and so on, contain areas of tremendous regulation, legal focus and general awareness that if left unknown, present a "not if, but when" scenario for an agent or broker to miss something that results is significant damage to those who they are charged with representing.
THE INDUSTRY'S PROBLEM IS EVERYONE'S PROBLEM:
During expanding market periods, the real estate industry experiences a tremendous influx of new agents, as evidenced by figures 1.2 & 1.3 below, followed by an equal exodus during contracting markets. The ease by which a person is able to obtain a real estate license has long been pontificated upon. The low barrier of entry into the brokerage segment of real estate creates a system that rewards low standards and encourages large brokerage houses, as referenced above, to create profit centers via franchise fees, product fees, transaction fees, desk fees, office supply fees, etc., rather than focusing on the skill and education of the real estate agent. It is as if the large real estate brokerage seems to have forgotten that it is the skill and diligence of the agent that creates not only their brand reputation, but reputation of the industry itself.
Why is this happening? The answer is quite simple; competition. When real estate cycles are expanding and the number of transactions and dollar volume is growing, brokerages use financial incentive for inducement of new agents, "the split," or the percentage of any sales commission split between the agent and the brokerage. Likewise, when a market cycle is contracting, a brokerage will often use the same inducement to keep agents or woo them away from another company, merely for the purpose of survival. In my time within the industry, I have seen the split go from 50/50 between the agent and brokerage to, in some cases now, 100% of the sales commission going to the agent. It does not take a mathematician to understand that there must be a source of capital for the 100% company to operate; fees and tools.
There also exists a hybrid to the straight commission split model; commission capping. In this model, once the agent has paid to the brokerage a predefined sum of commission income, the agent's split goes then to 100%, less, of course, fees. To some agents, this structure appears as an exciting commission relationship with their broker. They believe they will know at the beginning of any year what their financial obligation will be to the brokerage; and from a planning perspective, it can appear as a nice structure for the agent. What most forget in this structure is the stacking of these miscellaneous fees and the cumulative effect on commission income. Similar to the models referenced above, the agent is often left to their own devices on marketing spend, office space, etc.
Who actually wins in this scenario? Not surprisingly, the brokerage. Once the agent has "capped" there is no further incentive for the brokerage to aid the growth of that agent. After the cap is met, every dollar put into the agent is a dollar lost. There exists no fundamental value proposition for the broker to create highly trained and skilled real estate practitioners. Why? It is tremendously expensive and under this and many other brokerage models, the math simply does not work.
On a higher level, why is the split important? The relationship between the number of agents under any one broker coupled with the skill of that broker and any supporting team is balanced by the amount of operating capital available to the brokerage. The higher the spilt, the more agents any one brokerage will need to sustainably operate.
The focus of the real estate agent can become consumed with the spilt and that with a lower spilt model, the less money they will make. What top selling agents have known for a long time is that brokerages operating off of a larger company spilt model tend to provide much greater and advanced services to their agents through corporate training, greater amenity offerings, office space, supplies & marketing materials, in-house marketing services, etc., where the corporate franchise or large brokerage agent is often self-funded and left to their own devices to succeed or fail.
What many top producing agents will also tell you is that they are generally able to sell much more through a company driven model than through an agent driven model, ultimately offsetting the perceived imbalance in commission paid to the agent between the two structures.
The reality of any commissioned sales organization is that there comes a tipping point between operating capital and the number of sales agents. In real estate, one broker, or even a broker plus a competent support team, can only supervise, train and guide so many agents. Once the balance has been offset, the operation of the brokerage becomes about agent acquisition rather than talent acquisition.
This balance is akin to the same economic principals upon which the 'Laffer Curve' was developed. Simply, economist Arthur Laffer's concept states that a government can only tax production to such a point before that taxation ultimately limits production and stifles future innovation; or, a real estate brokerage can only functionally support so many agents before it becomes an exercise of diminishing returns.
According to the National Association of Realtors ("NAR"), following the 2008 financial crisis, membership within NAR plummeted to 963,455 in March of 2012 from its previous high in October of 2006 of 1,370,758 (+/-30% overall reduction [+/-5% average annual reduction]). On its face, considering the collapse of real estate and financial markets, that statistic may not be indicative of any material flaw within the industry, rather, a product of a failed financial system.
Nationally though, when compared to other service industries requiring professional licensure, advanced education and the offering of skilled advice, there exists a stark contrast in overall industry ingress and egress through market cycles between real estate and members of those respective fields. For purposes of this writing, we will compare law, medicine and financial/investment service brokers.
Fig. 1.2 (End of Year Active Practitioners – Note: slight variation from absolute high & low NAR membership points referenced above)
| | | | | | | |
| --- | --- | --- | --- | --- | --- | --- |
| Industry | 2006 Practitioners | 2012 Practitioners | 2006-2012 Growth | 2016/17 Practitioners | 2012-2016/17 Growth | 2012-2016/17 Avg. Annual Growth |
| Residential Real Estate | 1,357,732 | 999,824 | -26.4% | 1,308,616 | 30.9% | 6.2% |
| Law | 1,116,967 | 1,245,205 | 11.5% | 1,335,963 | 7.3% | 1.5% |
| Medicine | - | 878,194 | - | 953,695 | 8.6% | 1.7% |
| Financial Service Brokers | 658,173 | 630,391 | -4.2% | 630,132 | 0.0% | 0.0% |
From 2012 to 2017, the end-of-year attorneys practicing in the United States, on average, has increased by a factor of 1.5% annually, with not one single year of decline in new bar admittance. Over that five-year period, the overall growth rate of licensed attorneys was only 7.3% as compared to 30.9% in real estate brokers and agents.
Similarly, the total number of actively licensed physicians in the United States has seen a consistent trajectory of growth (8.6% total growth since 2012 [1.7% annually]) despite a well-known and growing physician and medical staff shortage predicted over the coming decades.
When compared to an industry that saw an equally volatile period following the 2008 financial crisis, financial service brokering (stock brokers, financial advisors, financial managers, etc.), the number of practitioners, despite 2008 troubles, remained largely unaffected. From 2006 to 2012, the average contraction of practitioners was only 0.69% annually. From 2012 to 2017, the industry has been flat as compared to a 26.4% contraction and 30.9% expansion respectively in real estate.
At the close of 2017, NAR's membership stood at 1,308,616. This 30.9% increase from its 2012 end-of-year overall membership represents a near complete recovery of lost members. From 2012 to 2017, this overall rate of growth in industry practitioners dwarfs its nearest competitor, medicine, by a staggering 325%.
The answer for the tremendous disparity in the overall fluctuation of practitioner presence is barrier to entry. It goes back to the old saying, "if it were easy, everyone would do it," and with real estate, compared to many other fields, it is easy and, apparently, everyone is doing it, until the market again shifts, that is.
The fact of the matter is that no less than a bachelor's degree, plus law or medical school, plus additional advanced training (residency, clerkship, etc.), plus advanced final testing is required to become a licensed and practicing attorney or physician. For a financial services broker, requirements are typically no less than a bachelor's degree, specialized internships & training, sponsorship from a current practitioner and financial series examination.
For the real estate agent, high school or an equivalent, no felonies, nominal fees, a few weeks of pre-license courses and a test; a rather simple one at that. Nothing more. Yet the real estate agent is now licensed to represent members of the public in what will, for most, be the single largest financial transaction of their lives.
Why then have the standards of education and skill for which the representative of the buyer or seller of that large asset been set so tremendously low when professional acumen, skill, competency and experience in other professional fields require years of high level education and rigorous testing?
The real estate industry today is in crisis because it does not take itself seriously, not in its education, mentorship nor execution of its practice.
-Jason Schmidt
For reference, in Florida, a real estate sales license currently requires a 63-hour pre-license course and 45-hour post-license course. That post license education, though, is required only after passing the state licensure test. The base license requirement is 63 hours of education with a total permanent licensure requirement of only 108 total hours. A cosmetology license, by comparison, requires 1,200 hours of training plus a final cosmetology exam before a license may be issued. A nail care specialty requires 240 hours of education. That licensure requirement of lengthy specialized training is admirable and important. I personally would not want anyone in a personal care industry to operate without it.
Where is it that we draw the line? The consequences of a failed real estate transaction stemming from an untrained or incompetent real estate agent or broker could result in complete financial ruin, destruction or deterioration of property as well as costly and time-consuming litigation; yet with only 108 hours of total education, in Florida, the real estate agent is now permanently licensed to wreak potential havoc. Let's also consider the steps to becoming a real estate broker, the individual licensed to supervise real estate agents. With two years of licensure as a sales agent plus an additional 72-hour pre-license class and 60 hours of post-license education, the sum total of the maximum required real estate education in the State of Florida amounts to 240 hours to achieve the highest form of real estate licensure, the same amount of training as is required for a nail care specialist and still five times fewer hours of formal training as the cosmetologist.
Yes, the two years of required licensure prior to earning a broker's license is designed for an agent to receive training from an active broker and become competent to sit in that role, however, there is no requirement for proving activity within the business; no portfolio submission, no minimum volume requirement, no minimum number of transactions. The academic portion of licensure, both in the real estate sales and broker role, is only a "crash-course" intended to make students aware of only broad elements of law, finance, land use, business practice, etc. There is no path to mastery or a platform upon which the student is encouraged to seek additional education. Though not identical, the general qualifications, academic and testing requirements are similar across the country; and, unfortunately, with the overall industry trend barreling towards massive brokerage conglomerates where brands and franchises are in the business of agent acquisition, not talent acquisition, the requisite training needed to advance beyond base licensure education is virtually nonexistent.
Of the 26 designations NAR currently advertises, a generally meaningless alphabet soup real estate brokers and agents are permitted to add to the end of their name, only a select few are advanced and measurably test the skill and experience of the practitioner, Certified Commercial Investment Member (CCIM), Society of Industrial and Office Realtors (SIOR), Accredited Land Consultant (ALC) and Certified Property Manager (CPM). Further, those who ultimately earn these advanced designations often hold advanced academic degrees and/or have years of substantial professional experience; and their pursuit of these designations is purposeful to be set apart from the general real estate world so that there is no confusion or misunderstanding as to the carried skill set; at least that was the purpose for me. For industry reference, U.S. CCIM designees, the industry's highest level of commercial real estate designation, represent less than 1% of current NAR members, a similar make-up to the additional above-referenced designations. Why? It is not easy and not everyone can do it, nor should they.
Let's consider what may seem like a rather innocuous example, one that occurs all too often here in Florida. During the course of a buyer's property inspections, it was identified by the licensed home inspector that a few of the home's electrical outlets appeared darkened around the receptacle input points. The real estate agents then discussed this problem and agreed that the outlets would be replaced prior to closing. The seller then engaged someone to replace the outlets, a handyman. All looked well at closing and everyone parted ways as happy as could be. Two weeks later, the house burned down.
As it turns out, the darkening around the receptacle inputs was caused by inadequate wiring within the walls creating overheating within the outlet. The new outlets masked this problem until the wiring in the walls could no longer handle the load being demanded of it.
An educated real estate practitioner would have known that only licensed electrical contractors are permitted to touch anything involving electricity, even a simple outlet replacement, and would have advised their client(s) accordingly and amend the purchase contract accordingly to incorporate that requirement. The electrical contractor likely would have seen the burning receptacles as a symptom of something greater rather than simply replacing the outlets as instructed.
Unfortunately, the buyer's house is now destroyed, hopefully with no injury or death, the buyer's home owner's insurance may now refuse the claim due to existing known defects prior to coverage and the seller and all real estate brokerages are now potentially exposed to a liability and/or negligence suit. Not only that, the business operations of many major franchise organizations are structured in a way that agents are only required to turn in all listing and contract documents at the time of closing, merely for the purpose of satisfying record compliance regulations. Unfortunately, nothing can be done to right a wrong inflicted during the course of any transaction after that transaction has closed. It is only with the supervision of a competent broker and support team that identifying potential issues as they occur that a redirection is possible.
APPROACHING A SOLUTION YOU CAN BE A PART OF:
The industry is showing no sign of turning away from what I call "agent farms," that is, a brokerage model incorporating many more agents than can be reasonably supervised, trained and generally supported. As such, there exists a real and present danger to the public should an untrained, unsupervised agent wind up leading someone astray.
Unfortunately, the sad truth of the world is that any legitimate errors and omissions (E&O) insurance policy will pay for the legal defense and any subsequent settlement or judgement stemming from a real estate claim. This type of insurance is akin to medical and legal malpractice, though designed for professional industries like real estate, accounting and engineering.
Although errors by competent and qualified practitioners do occur from time-to-time and the presence of insurance is a necessary element of any business practice, given the skills gap held by real estate agents today and what is required for competent advising within the practice, I can't help but wonder if residential real estate brokerages make hiring decisions while keeping in mind the significant insurance protection that is carried. Just consider the electrical issue mentioned above. With any legal claim, the burden of proving its merit is placed upon the shoulders of those making the claim. When you sue a person or business that is adequately insured, you're not suing that individual or organization, you are suing their insurance company. The insurance carrier has a legal obligation to defend the policy holder, the real estate company, in an amount equal to their policy limit. For a real estate company that has been in business for only a few years, it is likely that millions of dollars in E&O and liability protection is carried.
Do you have the means to take on an insurance company? Can you fund a lawsuit from start to finish when the potential for its cost could very well exceed the value of the claim you're making? Are you willing to hire a lawyer who will take the case on a contingency (they don't get paid unless you do)? Does that contingency based attorney have the means to fight a months or years long legal battle? Would you even know where to begin when seeking skilled advice from an attorney?
As a career-long practitioner of real estate, it worries me to constantly feel as though I must keep this topic front and center in my world. If you were to ask anyone with whom I work or even passively discuss general business they will tell you of my passion for protecting the public and raising the standards of this industry. It has been my only career. The practice of real estate is a noble profession and it deserves more, those who have dedicated their professional career to the practice of real estate deserve more, and the public, you, deserve more.
Practically, as a member of the field, for me, or even with the weight of our full operation behind me, tackling an industry and the institutions that are interest driven or legislatively deficient is an uphill battle at best. Uprooting political entrenchment and special interest money, thus shifting focus, is highly unlikely. There are just more important legislative priorities in the world today. Despite ongoing chatter amongst established professionals over the past few years, the industry direction is also proving that it is incapable of policing itself or imposing reasonable professional standards; so, it starts with you, the public.
Earning my CCIM designation required approximately two years of my time to meet its academic and testing requirements, at a cost of approximately $12,000 for required classes, testing, travel, etc., plus a submission of a final committee reviewed portfolio of business proving that I engaged in significant and meaningful business in the world of commercial real estate. All of this plus a letter of recommendation from past clients, current CCIM designees and CCIM chapter representatives.
Though perhaps those standards are too rigid for operation within the general business of real estate, there is absolutely no reason why each and every individual who is active in the business of real estate is not required to meet both academic and active business application-based standards. There is also a cost component involved. The financial cost of a real estate license in Florida including pre-license education is less than $1,000. The expense of time, less than one month. You judge for yourself. What respect would you have for your field if your investment was measured by your entire career to date when anyone with a month to kill, a get rich quick scheme and less than $1,000 was able to obtain the same level of licensure?
My wife is a physician. Not only did she have to outperform her peers in her undergraduate studies to be considered for admittance to a reputable medical school, she then had to outperform her peers again in medical school to be considered for a reputable residency. Even better, she had to outperform her co-residents to then be competitive for her specialty within the job market. If she makes a serious mistake, someone could die. If I make a serious mistake, someone could go bankrupt. Which is more devastating? I'll give you a hint, there is no right answer.
Mark once told me that, on occasion, there comes a time when the best thing you can do for someone is to fire them with love. I love my career and I love this business. I want nothing but its success and for the public at large to view it through the same rose-colored lens I do, but something has to give. Those of us who have long followed the "live and let live" philosophy, hoping that natural selection would eliminate those who have no business being in this business must begin voicing their concern and shining a light on those unable to compete. There is so much good work being done, yes, even by brands of the likes of Reaolgy, that there must be a collective voice championing real quality work, real professionalism and real-real estate.
So, it comes back to you, the public. There would be cause for outcry if there were rampant negligence within the field of medicine or law, doctors killing their patients or lawyers manipulating their clients. Following the 2008 financial crisis, the public chose to not accept a financial services broker acting with selfish negligence, so don't accept the presence of real estate practitioners who are not skilled, careful and diligent in their practice. I would again remind you that the potential consequence of a failed real estate transaction is complete and total financial ruin. That is not something the industry nor you, the public, can afford.
Sources:
Association, A. B. (2017). ABA National Lawyer Population Survey 1878-2017. American Bar Association.

Authority, F. I. (2017). Registered Representatives Statistical Review 2002-2016. Financial Industry Regulatory Authority.

Realogy Holdings Corp. (2018, January). Retrieved from Realogy: www.realogy.com

Realtors, N. A. (2017). Membership County by Month. National Association of Realtors.

Realtors, N. A. (n.d.). Designations and Certifications. Retrieved December 11, 2017, from National Association of Realtors: https://www.nar.realtor/education/designations-and-certifications

Regulation, F. D. (2017, August). DBPR: Cosmetology FAQs. Retrieved from Florida Department of Business and Professional Regulation: www.myfloridalicense.com/dbpr/pro/cosmo/documents/cosmo_faq.pdf

Schwaar, C. (2014, March 5). Making it Harder to Get a Real Estate License. Realtor AE Magazine.

Winkler, D. T., & Gordon, B. L. (2013). Commission Splits of Real Estate Agents with Affliiated Firms. Journal of Housing Research, 22(2), pp. 91-108.

Young, A., Chaudhry, H. A., Pei, X., Halbesleben, K., Polk, D., & Dugan, M. (2015). A Census of Actively Licensed Physicians in the United States, 2014. Journal of Medical Regulation, 101(2), 8-23.

Young, A., Chaudhry, H. J., Pei, X., Arnhart, K., Dugan, M., & Snyder, G. B. (2017). A Census of Actively Licensed Physicians in the United States, 2016. Journal of Medical Regulation, 103(2), 7-21.

Young, A., Chaudhry, H. J., Rhyne, J., & Dugan, M. (2011). A Census of Actively Licensed Physicians in the United States, 2010. Journal of Medical Regulation, 96(4), 10-20.

Young, A., Chaudhry, H. J., Thomas, J. V., & Dugan, M. (2013). A Census of Actively Licensed Physicians in the United States, 2012. Journal of Medical Regulation, 99(2), 11-24.